We are honored to announce that Dolan Toyota has been named a 2018 DealerRater Dealer!
This is a BIG testament to our wonderful customers who are committed to giving us helpful feedback via DealerRater. We take your feedback seriously and use it to help our teams grow.
We believe that communication is key to growth. Hearing from our customers and then acting has proven to be the best way to perfect our processes, strive for better results and boost positive experiences had each day.
This award highlights our customer service but also allows us to mature as a customer-centric dealership. Putting the customer's needs first and leaving customer service as our main priority is Dolan Toyota's plan for many years to come. We thank our customers for allowing us the opportunity to do so!

To learn more about this award please click HERE!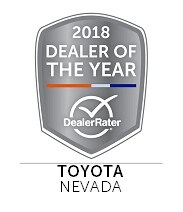 Dolan Toyota is a part of Dolan Auto Group and looks forward to serving our community for many years to come.