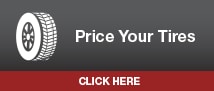 Let Dolan Toyota Help You With Your Tire Service
Your tires are one of the most important parts of your vehicle. Not only do they keep you firmly on the road, but they also help you turn correctly, brake when you need to, and get through whatever rough terrain or inclement weather that may come your way. The right tires not only help contribute to your vehicle's handling and performance but can also impact fuel efficiency and safety as well. If your tires are showing signs of wear, you can get exact replacements for the original tires at a competitive price at Dolan Toyota Service Center. With all of this hard work, your tires will need to have routine maintenance performed, including services such as tire alignments, tire rotations, and tire replacements. Our factory trained and certified Toyota technicians will ensure that your tires are mounted, balanced and inflated to match your Toyota vehicle's specifications.
View our competitive tire prices by clicking on the "Price Your Tires" button above and simply provide your vehicle information and the tires that you are interested in.  Keep your Toyota a Toyota by replacing your original tires at Dolan ToyotaService Center conveniently located in Reno NV.