Are you wondering what the key differences are for the 2015 Toyota RAV4 vs. the 2015 Subaru Forester?? When it comes to narrowing down your search for the perfect crossover and sport utility vehicle can sometimes be a daunting task. There is so much to look for when comparing two vehicles presented in the same class, though key differences are easy to spot. 
Comparing Fuel Economy Performance of the RAV4 and the Forester
Interesting enough, both standard models of the
Toyota RAV4
and the
Subaru Forster
have almost matching fuel economy ratings at 29 miles-per gal on the highway, though mileage may vary between models and conditions. Fuel economy is excellent for both.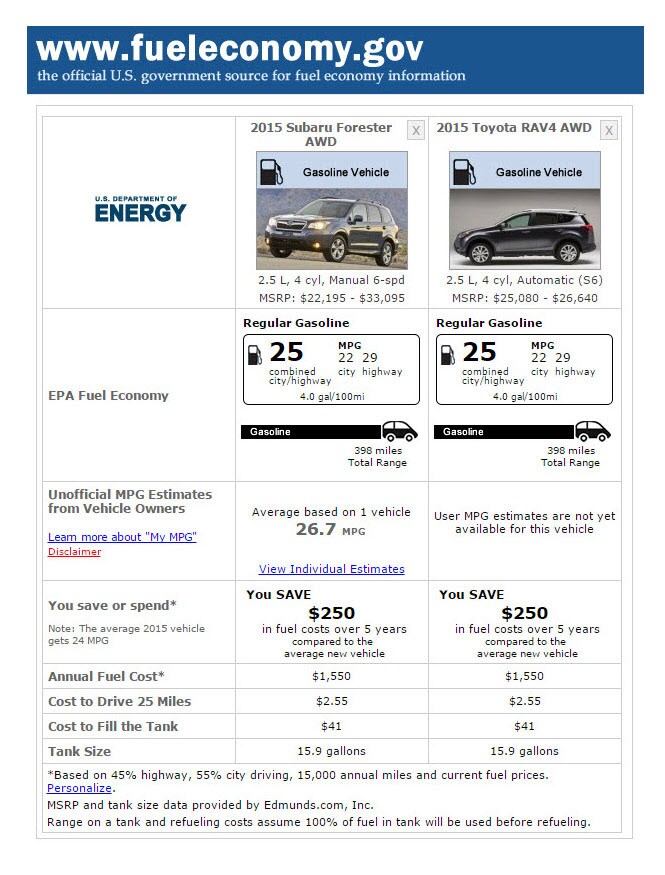 The biggest differences in these two models are seen in the hp and transmission. The 2015 Toyota RAV4 generates impressive hp numbers, rating at 176 hp, compared to the Forester's 170 hp. Having a boost of hp helps the
Toyota RAV4
stay above-ground. The standard transmissions for both the 2015 Toyota RAV4 vs. the 2015 Subaru Forester vary: the RAV4 comes standard with an automatic, while the Forester stays true to Subaru benchmarks by presenting a manual as standard transmission.
Safety and Features Comparison for the Toyota RAV4
When it comes to passenger safety, both the 2015 RAV4 and the Forester both come with all the standard safety features you would expect. They both come with front airbags, side airbags, and roll-sensing side curtain airbags. Safety airbags are never messed around with on any vehicle.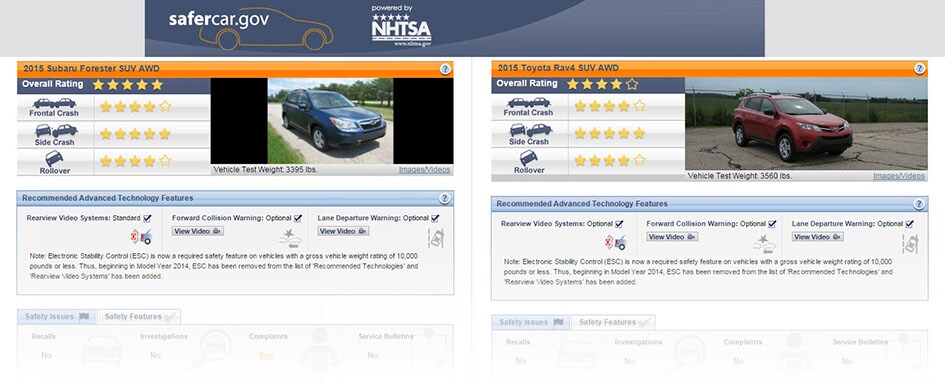 Compare Standard Feautures for the RAV4 and the Forester
Standard features are also about the same when it comes to everything you would expect. They both come available in AWD to keep traction at the forefront. Key differences in features is that the Toyota RAV4 has standard automatic climate control and optional bodyside/cab step or running board while the Forester does not offer either. Additionally, a rear spoiler comes standard on the 2015 Toyota RAV4 but the Forester does not currently offer this option. Finally, for radio enthusiasts, satellite radio is optional for the Subaru Forester, but comes standard with the RAV4.
When it comes to the 2015 Toyota RAV4 vs. the 2015 Subaru Forester, both standard trims come hand in hand but the RAV4 has some things that make it stand out just a little more. If you would like to know more information on the Toyota RAV4, stop by
Dolan Toyota
today.
In addition to all the benefits the vehicle itself grants you, all new 2015 Toyota's come with ToyotaCare free of charge. Toyota's devotion to dependability, safety, and overall performance comes through with ToyotaCare. Scheduled factory maintenance like fluid replacements and tire rotations are covered. You also have 24-hour roadside assistance. This can be anything from towing to battery jump starts. Rest easy, we have you covered 2 for years or 25,000 miles.
What makes Dolan Auto Group stand out from other dealers is that our sales team is paid by salary and not commission, so our customers don't experience any added pressure during their purchase experience. We also love to help to our local community, and we believe in paying back our community for helping us make Dolan Auto Group a success.
For additional information, or any questions on the 2015 Toyota RAV4, give us a call at 775-826-2750, and schedule a meeting with one of our sales reps today! Dolan Toyota is located at 2100 Kietzke Lane in
Reno, NV
, and we are proud to extend service to customers in our surrounding area, including Carson City.